Entrepreneur: Chrissy Chlapecka
Biz: Chrissy Chlapecka
Tilt: Self-proclaimed "bimbo"
Time to First Dollar: 8 months
Primary Channel: TikTok (4M)
Other Channels: Instagram (431K), Twitter (226.1K)
Rev Streams: TikTok Creator Fund, sponsorships, merch
Our Favorite Actionable Advice:
Make your own power: Chrissy gives positive energy to "bimbo," which usually has a negative connotation. That unique tilt piques curiosity (including Rolling Stone's), so people check out her content.
Expect haters: When you are your content brand, expect people to be critical or even worse. They don't see you as a person but as someone behind the glass on their device.
Take a prepared leap: Chrissy was able to quit her day jobs and jumped into a full-time creator career once her TikTok revenue was enough to pay the rent and groceries.
The Story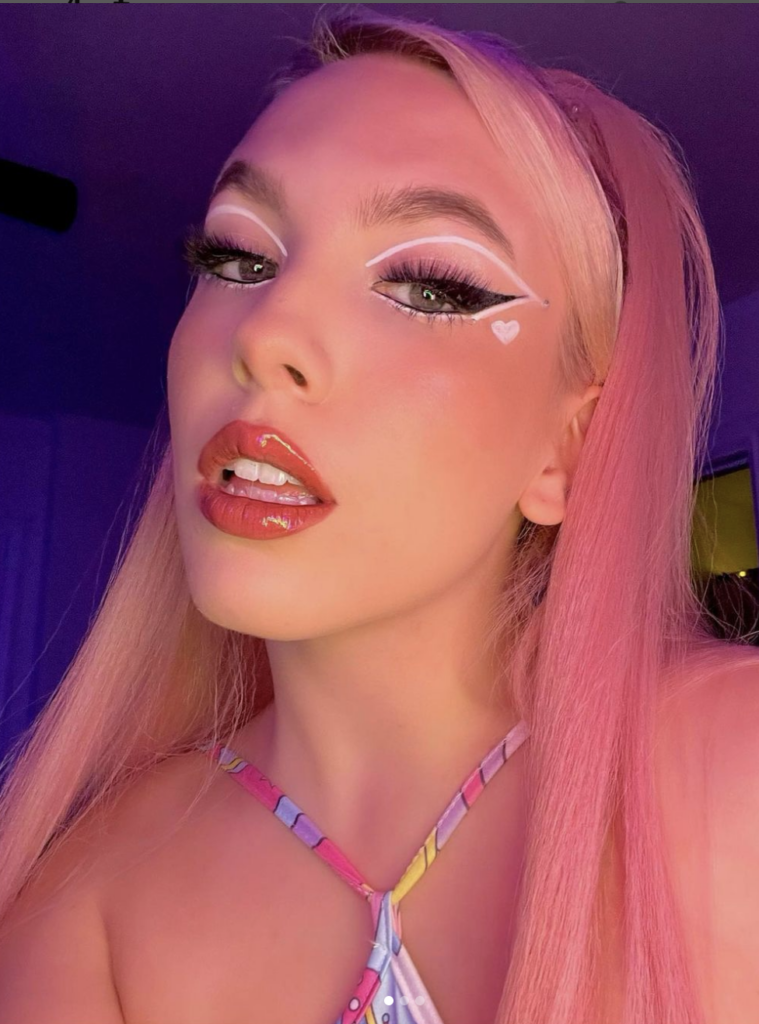 Content creators are real people, too. Though there's a sense of realization that comes along with interacting through a screen, Chrissy Chlapecka has no problem reminding cruel people that your favorite creators "have eyes" and will read your comments.
The creator with the self-proclaimed "bimbo" tilt has skyrocketed in success, with 4M TikTok followers, tons of in-person hosting gigs in her home city of Chicago, and even a Rolling Stone profile.
She's all about self-love, self-expression, and sticking up for yourself when haters try to get the best of you. In conversation with The Tilt, Chrissy talks about how creators can establish boundaries even though their audience might think of them as untouchable pixels, forever stuck behind the glass screen.
"I get so many silly comments from angry men a lot. They're laughable," Chrissy says. "And I don't get upset about them because I think they're pretty bad insults. It's just fun to comment back and to say something back," she explains. "A lot of people don't realize … just because our life is online doesn't mean people are allowed to say absolutely anything, and you don't have to respond."
A lot of people don't realize just because our life is online doesn't mean they are allowed to say absolutely anything and we won't respond, says @chrissychlapp. #CreatorEconomy #ContentEntrepreneur
Click To Tweet
From men calling out the way she dresses to her top-tier self-confidence, Chrissy deals with hate on a shockingly-high level. Personally, she's up for facing it head-on, but she doesn't advise the same of her followers.
"There's a lot of talk about how if a content creator responds to something, that's mean because now everyone is bullying the person who sent the content. I don't condone my followers to go harass somebody who sent something mean — [haters] also have to understand that we have eyes. We see comments. And we have boundaries around that, too."
Bold content tilt resonates with many
Chrissy dedicates her platforms to embracing a total sense of self, often beckoning to the "girls, gays, and theys" who may feel ostracized by mainstream society. She's usually decked out in pink, wears crop tops and mini skirts even in winter, and adds a splash of color to every For You page.
To the cookie-cutter viewer, Chrissy is bold and maybe a bit extreme. But it's her love of fashion, fun, and lack of care for outside concerns that have made her social media profiles a perfect haven for humans with flare. Some people have a problem with that, but it's also why she's loved, too.
"I wanna be the older sister, or like the person that I didn't really have growing up to encourage me and to tell me that being myself was OK," she says. "When I finally realized that in my own life I wanted to be myself, that I didn't want to cater myself or my needs to other people, I started posting about it."
From there, her following grew. "That's really created this solid connection I have with my followers that builds a lot of trust between us. Everyone wants to better themselves and love themselves, and I want to encourage people to do that because I really didn't ever get that encouragement until I found it in myself."
When @chrissychlapp realized being herself was OK, she started posting. That content helped created a solid connection and trust with her followers. #ContentEntrepreneur #CreatorEconomy
Click To Tweet
Active on Instagram, TikTok, and Twitter, she endorses sharing the same content on Instagram's Reels as on TikTok. Though TikTok's For You page doesn't show every video from a creator, Instagram gives a better chance of viewership from dedicated followers.
So how does she do it? "Take it step by step. Dip your toes in it every day," Chrissy says. "Yes, people are going to judge you, but that's inevitable regardless of what you do. So, why not feel free and love yourself and dress the way you want and be the person you want to be?
"Let those people judge, and let other people admire from afar. For every person that judges you, there's going to be two extra people that are admiring you."
Growing a creator business rapidly
Chrissy started on TikTok in 2020 as a fun, personal outlet. She didn't expect it to go anywhere or even know how creators made money on such platforms. It took a little over six months before Chrissy was able to quit her three jobs and drop out of school to pursue her creator career full time. She's always wanted to be an entertainer, with big dreams of becoming a musician. Her TikTok creations allow her to get closer to achieving that goal.
Six months after joining @TikTok, @chrissychlapp quit working three jobs and dropped out of college to pursue her creator career full time. #ContentBusiness #CreatorEconomy
Click To Tweet
"It has paid off in so many amazing, wonderful ways. I'm so thankful I took that little leap of faith. I've not been happier in so long," she says.
Chrissy advises new creators to tap into their authenticity. "It will take some time. You may have 100 fans, which doesn't seem like a lot," she says. "But that's 100 people who are gonna stay with you for your whole career because they like the person that you are, not just what you're putting out."
Kelly Wynne is a journalist and creative writer living in Chicago with her pet dachshund. She's an advocate for women's rights, mental health, and chronic illness.