Entrepreneur: Sarah Smith
Biz: The Dyrt
Tilt: Campground reviews
Channel: Website (14M in 2020) App (Apple and Google)
Other Channels: Facebook (237.8K) Instagram (105K)
Rev Streams: Paid subscription service; brand partnerships
Investments: $12M in four rounds; starting fifth round now
Our Favorite Actionable Advice
Solve your pain point: Avid campers, the Smith family couldn't find real-life reviews of sites, so they invented a solution and content business.
Focus on super users: The Dyrt focuses on the 1% of its UGC contributors who consume, submit, and share content.
Don't expect quick results: About seven years after its launch, The Dyrt made money from its tech, which required millions from investors, through a subscription service.
The Story
There is something special about getting a great recommendation. It doesn't matter if it is for dinner, a massage therapist, or the best place to camp. It gives you comfort in knowing someone has been there and thinks it's great. 
Seventy-nine percent of consumers trust online reviews as much as they do one from a friend. And that is exactly what Sarah Smith was looking for when she planned camping trips.
Solve a problem
Sarah and her husband Kevin loved camping but had a constant battle over who would book campsites. It was a struggle to find a good one, and even when they thought they found an awesome spot, they still weren't sure. "Every week, we would fight. I would tell him, 'You go look for a place to go camping this weekend,' and Kevin would tell me he looked for three hours, and it was my turn," she remembers.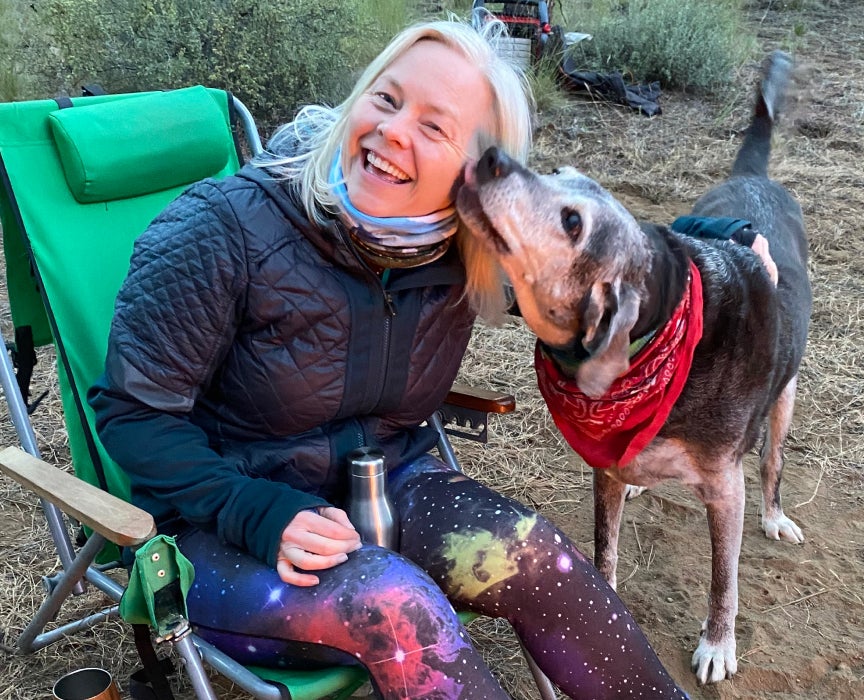 "It was so frustrating because I just couldn't find what I was looking for, which was user-generated information. I wanted the real scoop on what a campground was like. For example, "Site two is next to the river, and site nine is by the highway," she says.
But on-the-ground intel wasn't available. "So I kept saying over and over to Kevin we should do this, we should start this, someone should start this. And then finally, I was just like, well, let's just do it. What are we waiting for?"
That was 2013 when she founded The Dyrt, a website and eventually an app. They have been through several iterations with one consistent attribute – honest reviews by real people about the good, bad, and ugly of campsites across the country. Now, over 1M reviews and photos on the site allow campers to find the best spot possible. In 2020, The Dyrt had over 14M visitors, and it projects 20M this year.
Sarah Smith wanted the real scoop on what a campground was like. She couldn't find it. She started a user-generated review site @TheDyrt. #contentbusiness #contententrepreneur #startup
Click To Tweet
Gamify user-generated content
Initially, Sarah built and populated the site herself. She modeled her prototype on Yelp with user-submitted reviews and star ratings. Campers were asked to upload pictures and videos and write reviews to help others get a good picture of what a campsite feels like.
Getting people to submit reviews on a new site was a big hurdle. "We have always incentivized people, and we always made it about solving a problem," she says.
The first version of the site had an outlined map of the United States. "I said something like, 'Help me make your state green by sending me the name of a campground, four photos, one video, and your review. I will put it up as a blog post, and I'll send you a $10 REI gift card," Sarah says.
It worked. People sent reviews and turned the map green. Sarah then turned it into a bigger game. She created a leaderboard and gave users points for each item they submitted. "At the end of the month, whoever is the best reviewer – it's not just based on points we actually have to judge the content – wins gift cards through the brand partners that we work with," she says. 
"Some people don't care about the monetary value of getting a gift card, but they want that badge of being a 'Ranger' on our site, or they want to get that 'Fact Checker' badge. We have all these different badges on our site, and they want prestige. It's pretty awesome to see people feel that passionate about The Dyrt," Sarah says.
Some .@TheDyrt reviewers find on-site badges more valuable than gift cards. #UGC #contententrepreneur #camping
Click To Tweet
Sarah lives by 1-9-90 rule – 1% are super users who submit content and really engage; 9% like and share the content but don't submit; and 90% just consume the content.
"We really focus on that 1%," she says. "We really fostered them. We've met them in our office. A lot of them we've talked to on the phone, and they have our personal phone numbers."
Follow 1-9-90 rule with #UGC communities: 1% = super users; 9% = likers and sharers; 90% = just content consumers. @TheDyrt focuses on the 1%. #contententrepreneur
Click To Tweet
Growing tech strategy with investors
The site isn't the only thing that has evolved. Revenue has too as the audience and review numbers have grown. "The first bit of revenue was through brands that we worked with. They would be a part of our contest, so they'd get advertising through that. Then we had writers who would take the winner of their contest and write a blog post about them," she says. "The brands would post it on their social media and use that as content, and then we would use it as content. So the very first way we ever made money was kind of this agency type of work."
However, Sarah wanted The Dyrt to be more. "We knew that wasn't a sustainable way for us to make money. We wanted to figure out how to make money off of our technology," she says.
The Dyrt raised $12M from investors in four rounds. They are starting their fifth investment round. They have grown from a team of two (Sarah and Kevin) to a staff of 38, including developers, marketers, and customer service representatives.
"We have The Dyrt Pro now, which is finally making money off our technology by offering upgraded tools," she says. The $36 annual membership includes a trip planner, offline maps, and discounts. In the first six months, 40K signed up. Revenue for 2020 was around $1.4M, with 2021 projections to triple to over $4M.
Adding @TheDyrt Pro subscriptions lede #UGC camping site to finally make money off its #tech, #founder Sarah Smith says. #contentbuiness #contententrepreneur
Click To Tweet
Kimmy Gustafson is a freelance writer with a passion for sharing stories of bravery. Her love for world traveling began when her family moved to Spain when she was 6 and since then, she has lived overseas extensively, visited six continents, and traveled to over 26 countries. She is fluent in Spanish and conversational in French. Currently, she is based on Maui and, when not writing or parenting, she can be found kiteboarding, hiking, or cooking.