Entrepreneur: Simran Kaur
Biz: Girls That Invest
Tilt: Making investing less daunting for women
Primary Channels: Podcast (1M+ downloads), course (3K+ enrollments)
Other Channels: Instagram (155K), TikTok (75K), Twitter (2.5K), private Facebook group (2.7K), Girls That Invest, a book (August 2022)
Time to First Dollar: 1 year
Rev Streams: Sponsorships, speaking engagements, online courses
Our Favorite Actionable Advice:
Take one step, then another: Don't wait to start until your whole business model is ready. Instead, take one action every day to put the business in motion.
Commit to a year: Simran created the podcast with her best friend. They each agreed to do it for 12 months to establish the show.
Make the ask: An investment firm signed on to sponsor a season of the podcast after Simran reached out to share how her audience was a good fit for them.
The Story of Simran Kaur
Simran Kaur should be working as an optometrist now. Instead, the founder of Girls That Invest leads a top-rated financial podcast, prepares for an August book launch, and oversees a growing content brand. Her online course is so popular that 500 people signed up in four days, bringing in revenue totaling $149K from the fees.
Her success is recognized in unexpected ways. A few months ago, a woman sat silently next to her while they got their nails done. When the woman was finished, Simran explains, "she got up, and she looked at me, and she said, 'Congrats on your January earnings.'
"And I was like, 'Whoa. That was something I shared online."
Instead of examining patients' eyes, former optometrist Simran Kaur spends her days on @GirlsThatInvest, a top-rated financial podcast and growing content brand. #ContentEntrepreneur
Click To Tweet
It was a moment in time, but it speaks to the presence and community Simran has built in a couple of years. Now, instead of examining patients' eyes, she's traveling the world for speaking gigs with companies such as Oracle and Salesforce, going viral on TikTok, and providing common-sense financial advice to hundreds of thousands. Simran loved her optometry career, but building Girls That Invest has been a "dream come true," she says.
"To be able to be in that position where you can leave your job because of a hobby that you started – I always knew, in some part of me, that this was my calling," she says.
Expanding from The Indian Feminist
Based in New Zealand, Simran has never been one to focus exclusively on a single topic. She was a fan of online courses, and, to explore life from a feminist angle, she launched an Instagram page in 2016 – The Indian Feminist, which now boasts 312K followers. Through that page, and as she talked to her friends and classmates who planned lucrative careers in health care, she realized how little any of them knew about financial matters.
So she dug in – reading books, watching videos, and eventually earning a certificate in financial markets. In her certificate class, the instructor broke down seemingly complex subjects, such as how the markets work, in an easy-to-understand way.
Simran Kaur translates finance topics she spent her life thinking were hard and confusing in @GirlsThatInvest. #ContentBusiness
Click To Tweet
"These are topics I spent my whole life thinking were really hard and confusing," Simran says. "I just think we've been taught them in a way that's been confusing. And maybe the change is just that we need different teachers."
Simran didn't set out to be that teacher, but that's what happened. In March 2020, she launched the Girls That Invest Instagram account and Facebook group with no grand vision for what it might become. But from her experience with The Indian Feminist, she knew Girls That Invest had potential. It had a message and mission that resonated and filled a gap in the market that Simran uncovered — women like her sharing investment information. "I couldn't find it anywhere," she says.
In August 2020, she convinced her long-time best friend Sonya Gupthan to co-host a Girls That Invest podcast with her. Growth was slow and steady, but they pledged to do it together for a year. "Worst case scenario, we just refresh our own memories and maybe even learn a few things," Simran says.
The wait was worth it. In mid-2021, Girls That Invest landed its first sponsorship – and earned its first dollar. Simran contacted Sharesies, a popular New Zealand-based investment platform, and they eventually agreed to sponsor a season of the podcast. "We were just mind blown," she says. "It was the first time we've (made) any money off this. It was a lot of labor of love fueling the brand … We're so thankful that they did take that on because it meant a lot."
Big growth in 2021
A lot would happen just a few months later. In November 2021, after essentially working two full-time jobs for months, Simran quit her optometry job to focus on her content entrepreneur role.
The Girls That Invest podcast hit the No. 1 business podcast in the United States and Canada and No. 2 in the United Kingdom and New Zealand.
At about the same time, she pre-sold her first online class, a crash course in all things investing, expecting just 10 people to sign up for the $299 course. Instead, 500 people did. She's not sure exactly what led to that big number. Being consistent and raising her visibility through TikTok were likely contributors. And, she says, the podcast turned out to be a great sales pitch for her courses, too.
500 people signed up for the first $299 @GirlsThatInvest course in the first four days, says founder Simran Kaur. #OnlineCourse #CreatorEconomy
Click To Tweet
"I didn't realize it would work this way, but having a podcast [gives] someone a little taste tester as to who you are as a person and … how you teach," Simran says. "And if they like it, they already know what they're in for as opposed to someone they never met before."
Fluctuating revenue
Today, revenue comes from sponsorships, speaking engagements, and course fees. The company's monthly earnings can fluctuate wildly depending on whether she's selling a course or offering other deals – it was over $350K (US) in January but only $12K (US) in another month.
She shares those finance details with her followers to give them an idea of what it's like to run a content business – and she shares what she pays herself for a salary. Though the business earns six figures, she pays herself mid-five figures a year. "I share that I'm just trying to grow the brand first," she says. "We just try to keep it very honest and open, and we don't take ourselves too seriously." 
Though @GirlsThatInvest does well, founder Simran Kaur takes a modest salary because she wants to grow the brand first. #ContentEntrepreneur
Click To Tweet
Now, Simran is focused on what's next, including the launch of her book in August 2022, which already has topped pre-sale charts. Sonya recently joined Simran to work full time with Girls That Invest. As Simran looks to her future, here are three tips she shares for new content creators eager to begin on their own.
Advice for content entrepreneurs from Simran Kaur
Find a content gap: Provide the content you want to see but can't find. "Find a gap because it's so much easier trying to do something that you wish was there, but no one else is doing because you are instantly your target customer," Simran says. Filling that niche will guide the branding, form, and tone. "It's whatever you want because that's who you're talking to," she says. "That made it so much easier.
Build then sell: "Build a community first before you ever try to sell anything," she says. Too many creators come out with an offer before their community is ready. "People are going to have a lot more faith in you because they've had a year and a half of free content," she says. "There's already going to be that trust."
Build a community before you ever try to sell anything, says @GirlsThatInvest founder Simran Kaur. #ContentEntrepreneur
Click To Tweet
Take one step at a time: She hated when others told her to "just get started." Get started with what, she wondered at the time. "What they were trying to say, because it really helped, was just take a single step a day," she says. "You're not going to work out your whole business model instantly."
It's about taking small steps – setting up the website name, getting a logo together. "You're just going to get closer and closer, and then, one day, you will have this sort of light-bulb moment where everything clicks," she said. "But, to get to that, you just need to take those little steps."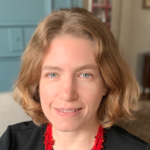 Sarah Lindenfeld Hall is a longtime journalist, freelance writer, and founding editor of two popular parenting websites in North Carolina. She frequently writes about parenting, aging, education, business management, and interesting people doing remarkable things.