Entrepreneur: Patricia Bright
Tilt: Beauty and fashion
Scene: YouTube (2.86M)
Snack Bite: Patricia's video prowess led to her hosting an original YouTube series If I Could Tell You Just One Thing, featuring powerful women in a variety of industries.
Why We're a Stan: Patricia juggled her financial and content creator careers until her YouTube audience grew to enable her to earn a living on the platform.
The Story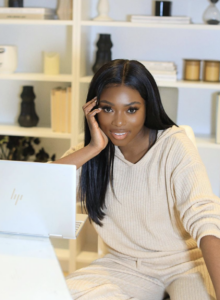 South London native Patricia Bright grew up with Nigerian parents who expected her to go to law school or medical school. As a first-generation Nigerian-Brit, Patricia went down the path preferred by the adults around her – finance.
While earning a university degree in the subject, though, she discovered her love of vlogging, beauty, and fashion on YouTube in 2009. "Social media wasn't what it is today. It was this 'new,' underground space that allowed us to connect around the world. I had an online community of women that I could talk to, but I was also studying and working at the same time," she told Forbes last year.
As her following grew, Patricia saw it as a way to make a full-time living and she left her full-time position as a business analyst. Over 10 years, Patricia has had the chance to do deals with brands like Dior, Amazon, Coca-Cola, and British Vogue where she showed off her must-have purse items.
#YouTuber @PattyOLovesU waited to quit her full-time finance job until her @YouTube audience had grown to support a full-time #ContentBusiness. #Stan
Click To Tweet
Last Fall, Patricia became the host of the YouTube Original show, If I Could Tell You Just One Thing, a compilation of interviews with powerful women in their respective industries. Produced by Hillary Clinton, Sam Branson, and Chelsea Clinton, the series helped solidify Patricia as one of the top content creators on the video platform.
@PattyOLovesU expanded her content offerings by hosting a @YouTube original series If I Could Tell You Just One Thing that was co-produced by @HillaryClinton. #Stan #ContentEntrepreneur
Click To Tweet
In 2020, Patricia earned $260K in video advertising alone.

Shameyka McCalman is a wordsmith whose work often centers around fashion, art, and other creatives of color. She earned her communications degree from the University of Massachusetts Boston and enjoys sifting through clothes in local vintage shops, frequenting nearby plays, and gazing at exhibitions on view in museums.