Entrepreneurs: Wendy and Beth
Biz: Fruitloops podcast: Serial Killers of Color
Tilt: True crime featuring serial killers of color
Primary Channels: Podcast, website
Other Channels: Facebook (3K), Instagram (2.3K), Twitter (1.4K)
Time to First Dollar: Wendy and Beth created a Patreon account when they first started Fruitloops podcast, and revenue arrived in "dribs and drabs." The two still work full-time jobs and funnel any money earned from the podcast back into the business.
Rev Streams: Ads, merch, Patreon, CashApp, Ko-fi
Our Favorite Actionable Advice:
The questions you have may be questions a prospective audience has. Fruitloops podcast started after Wendy asked her co-worker and fellow true-crime podcast fan, "Are there any Black serial killers?" She and Beth found the answer was yes, and started Fruitloops.
Wendy and Beth have kept their full-time jobs, reinvesting the money earned from the podcast into the business.
As the podcast business grew, the duo contracted with Evergreen Podcasts Network to help manage advertising and other duties.
The Story of Fruitloops podcast
The origin story behind the award-winning true crime podcast Fruitloops: Serial Killers of Color is this – casual conversations between two work friends who spent their days in the financial services and customer service space.  
At some point, the conversation turned to true crime podcasts, and they started swapping favorite episodes. The interest eventually prompted a question from Wendy, who is Black, to Beth, who is white: Are there any Black serial killers?
The answer is most definitely yes. As the duo dove deeper into the topic, Beth suggested they launch a podcast. Wendy remembers her response: "Girl, get out of here; I'm busy."
Co-worker chatter about true crime podcasts led Wendy and Beth to launch @FruitloopsPod about serial killers of color. #CreatorEconomy #Podcasting
Click To Tweet
But Beth persisted, and in 2018, they launched Fruitloops, quickly earning a fan base with their deep discussions about the crimes and the historical and societal reasons why the stories of Black serial killers aren't told. In 2021, Fruitloops won Best Black True Crime Podcast at the Black Podcasting Awards and now earns between 30K and 35K downloads a month.
"It has been a lot of fun," Wendy says. "And we could quit, but we keep getting rewarded for working so hard on something so special."
Finding their tilt
To be clear, Wendy and Beth aren't their real names. From the start, the duo decided to keep those private. "The internet is not a safe place for women or people of color, and we talk about some pretty spicy stuff," Wendy says. "It has helped keep us safe from crazy people."
Says Beth: "I have no interest in being famous."
At the time they launched, true crime podcasts were growing in popularity, thanks, in large part, to Serial, which debuted in 2014. While the media has covered the crimes of white serial killers – think John Wayne Gacy and Jefferey Dahmer – in detail, the crimes of killers such as Samuel Little, who confessed to killing 93 people, and French killer Thierry Paulin are far less known.
Finding your content tilt is a key business move for any content entrepreneur. In their quest to answer their own question, Wendy and Beth landed on an untapped niche that quickly resonated with thousands of fans. Within the first month, their podcast had been downloaded 10K times.
Success came with plenty of trial and error. Without any knowledge about how to create a podcast, they learned from scratch — from identifying the best kind of microphone to editing the audio files. They recorded the first episode three times before they finally posted it. Only then did they tell a handful of friends about what they were doing.
"Wendy was assigned some projects, and I was assigned some projects. We would come together and share what we found out," Beth says. "I think we were ready, but we were scared. But then came to a point where we said, 'We've just got to put it out there.'"
Growing without a paid strategy or big fan base
Fruitloops grew organically without the benefit of massive social media followings or marketing campaigns. What helped its growth, in particular, were cross-promotions and iTunes review swaps with other podcasts with similar vibes. They also listened willingly to criticism as long as it was constructive. That helped them build a community of fans, a key factor in their success.
"We're really authentic," Wendy says. "People really trust us and like us and want to help. We call them our Fruities. They're really helpful in putting us out there."
@FruitloopsPod fans found the #podcast through cross-promotions and iTunes review swaps, plus coverage in @TheNewYorkTimes. #ContentEntrepreneur
Click To Tweet
The podcast also netted big media coverage, including The New York Times and Harper's Bazaar, at the beginning of the pandemic, as people were stuck at home looking for something to do. The 2020 murder of George Floyd also drew a new audience to them.
"We're a show about marginalized people and people of color, and that was a big conversation," Wendy says. "People reached out at that time. Maybe there was some tokenism there, but we appreciate it."
Reinvesting in the content business
Wendy and Beth still work full-time jobs. The podcast earns money from ads, Patreon, merch, Cash App, and Ko-fi, but they funnel that revenue back into the business, including paying for expenses such as their trips to CrimeCon.
Last fall, they joined the Evergreen Podcasts network to help them manage advertising and handle other duties, such as publishing other Evergreen podcasts in the Fruitloops feed when the creators need a break.
"We've reached the point where we were too big to keep doing everything ourselves, but we weren't big enough to quit our jobs," Wendy says. "The network has been super supportive."
Advice for content entrepreneurs
Wendy and Beth offer their advice for podcasters and other creators looking to build a business.
Research and then do it
Yes, research the basics of building a podcast, but don't go so overboard you don't take action. "Without each other, we would never have done it," Beth says. "We would have been too scared to do it. We kind of pushed each other."
Listen, but not to the haters
With all the hate and negativity online, it's easy to get discouraged as a content creator. Don't. Beth says, "People pay way too much attention to comments and take it way too personally. I try not to look at them."
Instead of the haters, listen to the people who share constructive criticism, she says, "who are not being mean about it, who might have suggestions for you. Don't take it personally."
Don't listen to the haters, but do listen to audience members who might have constructive suggestions, says @FruitloopsPod co-founder.
Click To Tweet
While nasty comments might be common online, fans reach out too. Spend your energy on those people, Beth recommends. "Some days, we get an email from somebody, and it just makes our day. And we're like, 'This is why we do this.'"
Hear more about the Fruitloops story in real life from the main stage at Creator Economy Expo May 1-3.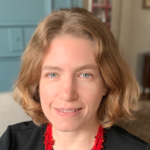 Sarah Lindenfeld Hall is a longtime journalist, freelance writer, and founding editor of two popular parenting websites in North Carolina. She frequently writes about parenting, aging, education, business management, and interesting people doing remarkable things.