Entrepreneur: Natasha Smith
Biz: Lovely You Blog
Tilt: Faith, family, and grief
Primary Channel: Facebook (62K)
Other Channels: Instagram (10.7K), blog, Twitter (2.8K), Pinterest (1.1K)
Big Break: In 2018, toymaker Hasbro offered $2K to feature a video of her family playing a new game on her Instagram. Natasha was shocked. "The typical sponsored posts that I had been doing were a couple of hundred dollars," she says.
Rev Streams: Sponsored content, Google AdSense, Amazon affiliates, affiliate marketing with brands, merch
Our Favorite Actionable Advice
Have backup support: She works with virtual assistants to promote her content on social media and handle other tasks. At times, she has outsourced work for her content brand through the Fiverr platform.

Invest in yourself: Natasha has taken classes on everything from SEO to storytelling through free online resources to a MasterClass subscription to improve her craft. For 18 months, she did a coaching program with Sandi Krakowski. They met weekly with a group, and she learned about topics such as copywriting and Facebook algorithms. "I'm still using the different tips," Natasha says.

Find your niche: Natasha narrowed her content brand over the years to a tilt that better resonated with her audience. Content creators who can do that more quickly can find a faster path to success. "I had a whole journey to get to where I am," she says. "If someone knows exactly the niche they want to get involved in, I think they'll be on a great track a whole lot sooner."
The Story
Before the pandemic, Natasha Smith's content business was going strong. She'd been pulling in sponsorships from brands as big as Walmart and Hasbro as she wrote about family and lifestyle topics. Then COVID hit.
Business opportunities slowed, but Natasha ended up really finding her stride and an evolved content brand. She picked up tens of thousands of new followers as she dialed in on topics that turned out to resonate deeply with people during a global crisis – faith, inspiration, and grief.
"I literally grew from 7K to 30K on Facebook in a few months," she says. Now her Lovely You Blog Facebook page has more than 62K. "It's gained a whole lot of traction, and I really believe it's because I'm more focused than I was years ago. So, people, when they come to my page, they know what they're going to get."
A switch in her #ContentTilt to faith, inspiration, and grief led @imnatashasmith to grow her Facebook audience to 62K, an 885% jump. #ContentEntrepreneur
Click To Tweet
'You should monetize this'
Lovely You started as a hobby in 2009 when Natasha, a mechanical engineer by training, sought a creative outlet. She launched an online shop where she sold homemade items like tulle skirts and jewelry. She started a blog to get the word out about her merchandise. But creating the handmade items began to take up too much time. Within about a year, as she learned more about the potential for content creation, she shifted from an online boutique owner to a style blogger. "I kept hearing, 'You should monetize this,'" Natasha remembers.
But, with a busy life and full-time job, blogging remained in the background for some time. Then, in 2014 and 2015, she started positioning her blog for opportunities. "I was doing a lot of free posts and products in exchange for content – things to build credibility and be able to refer someone to, 'This is what I did,'" Natasha says. "Basically, (I did it) to build my one sheet to show people that you can trust my work. It took a couple of years to do that."
Want to do brand partnerships? @imnatashasmith created a one-page sheet to show how they could trust her blog work and connect with her audience. #marketing #contententrepreneurs #blog
Click To Tweet
The blog continued mostly as a hobby even after she left her full-time job in 2016 to home-school her young children. But her content topics also shifted. Instead of just writing about style, she was writing about her family's trips to Disney and publishing parenting tips. "It was really a fun outlet for me," she says.
Hobby to business
Eventually, opportunities to monetize her content presented themselves. Around 2017, she got involved with blogging networks such as Blog Meets Brand, Clever, and BlogHer, which connect brands with bloggers.
Completing the applications took work, but she learned a critical lesson: Authenticity and consistency are a must. She only pitched brands that she already loved. "The words just flow, and it's so real," Natasha says. "The pitches are easy when I already know and love the brand."
The first big break came in 2018 when toymaker Hasbro offered her $2K to feature a video of her family playing a new game on her Instagram channel. She was shocked. "The typical sponsored posts that I had been doing were a couple of hundred dollars, which was great, but that was my first over $1K," she says.
A $2K #Instagram sponsored post from Hasbro prompted @imnatashasmith to realize the power of brand partnerships. #influencers #sponsoredcontent #contententrepreneur
Click To Tweet
Other sponsors followed, including massive brands like Walmart, Huggies, and Target. But then came 2020. "The world was just so dark," she says. As sponsorships dried up, she started sharing more inspirational posts, writing and talking about her Christian faith and her own experience with grief. New followers came by the thousands.
"I'm just trying to use things I've learned to help people not feel so alone in their grief and the challenging times they may have in life," she says.
It was a weird journey, she admits, from style to lifestyle to a family, faith, and grief blogger. "I've been thankful for the people who have stuck around since the very, very beginning," she says. "My content is really different now."
Business, she says, is just picking up, but she has slightly shifted her work and content brand. She's writing a book about grief, inspired by a post she shared in June 2020. She has been able to vet potential book topics with her online community. That following also will only help her as she pitches the book to publishers.
"I love it here, in this place, in this space," she says. "I really feel like (I'm doing) what I was made to do, but I needed to do what I did to get here," Natasha says.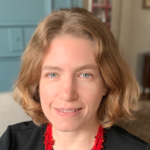 Sarah Lindenfeld Hall is a longtime journalist, freelance writer, and founding editor of two popular parenting websites in North Carolina. She frequently writes about parenting, aging, education, business management, and interesting people doing remarkable things.