Entrepreneur: Tara Voshell
Biz: 3 Spooked Girls
Tilt: True crime stories that humanize the victims
Time to First Dollar: Few months
Channels: Podcast, TikTok (580.8K), Instagram (8.6K), YouTube (711)
Rev Streams: TikTok Creator Fund, Patreon, merch, sponsorships
Our Favorite Actionable Advice:
Lead with empathy: Treat the subjects of your content as you would a friend. Humanize and honor them.
Work with brands like you: Enter into brand deals when their values and goals align with yours.
Find a sub-niche: True crime content is popular, but 3 Spooked Girls stand out because they focus on the victims and tell lesser-known stories.
The Story
Tara Voshell wants people to "stop romanticizing serial killers." The phrase is even on 3 Spoked Girls merchandise. Viewers often scroll through true crime videos that focus only on the deviant, not the people who lost their lives. 
Stop romanticizing serial killers. That's the message of #podcast and TikTok's @3SpookedGirls, says co-creator @Tara_3SG. #CreatorEconomy
Click To Tweet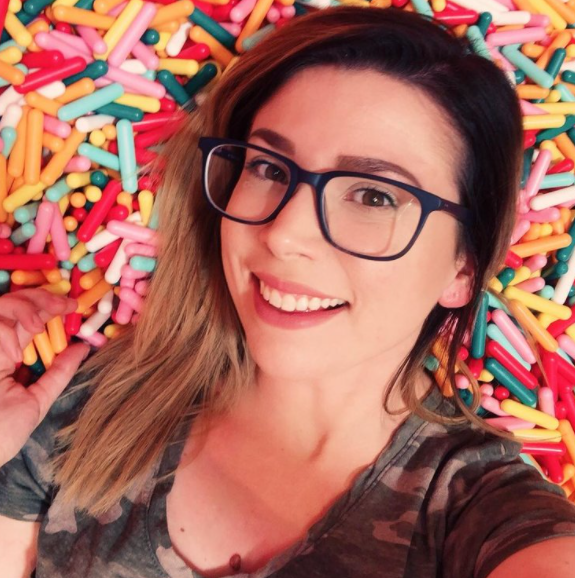 3 Spooked Girls is a podcast that aims to be respectful and responsible when it comes to terrifying retellings. There will be no talk about if Ted Bundy was hot. Viral cases like that of Gabby Petito, which captivated social media audiences in late 2021, are handled with a conscious retelling of who the person was – not just what they've gone through.
For Tara, that's the only way, and it's what made 3 Spooked Girls stand out from all the other true crime content. She's made a name for herself on the podcast and attracted an audience on TikTok who appreciate her humanistic take. She shares bite-sized true crime and paranormal stories with the victim in mind for her audience of almost 581K.
"For myself, the important thing is to tell the victims' story," she says. "Most can no longer have a voice, so keeping ethics in mind is huge. I feel that approach alone is something that has helped my account stand out. I prefer to talk about lesser-known cases, but (I) do talk about ones that have a wider audience when requested."
TikTok grows 3 Spooked Girls podcast audience
Though Tara started her podcast and TikTok in tandem, her TikTok account blew up in just a few months. She says her TikTok followers then began to listen to the podcast.
@3SpookedGirls blew up on @TikTok first, helping their viewers to find the podcast version, says @Tara_3SG. #ContentBusiness #CreatorEconomy
Click To Tweet
The TikTok Creator Fund also was her first step to monetizing her content. Now, Tara focuses on community building to make money. "Patreon and sponsorships are my two favorite ways to monetize my content. With Patreon, I am able to create a bit more of a closer-knit community, they're able to get to know me more on a personal level during patron-only livestreams, and I very much enjoy creating their exclusive content for them," she says.
"I also have completely enjoyed working with the brands that I have worked with. I always make sure to do ample research before signing a deal to make sure our values align, that I can truly endorse whatever the deal is about and that my followers will also find value from it as well," Tara explains.
Treat creation as a job
Her tips to monetize content? "You have to treat it like a job even if it isn't at first. Consistency is a huge part of it," Tara says. "This helps build that rapport with your followers and show that you are committed to what you are doing. Also, always be authentic and true to yourself. If you're trying to be someone else, it will come across very clearly. There's a place for everyone, so be yourself, and your people will find you."
Treat content creation as a job. Show your followers your commitment to creating, says @Tara_3SG. #ContentEntrepreneur
Click To Tweet
There's one additional key to creating content, especially when it's related to a sensitive subject matter. "The biggest thing is to have empathy," Tara says. "Think about if the case you're covering was your loved one or friend. Would you want someone to say what you're thinking of saying about them? If yes, great. If not, then you may want to rethink things."
Kelly Wynne is a journalist and creative writer living in Chicago with her pet dachshund. She's an advocate for women's rights, mental health, and chronic illness.