Entrepreneurs: Lucky Diaz and Alisha Gaddis
Biz: The Lucky Band (formerly known as the Lucky Diaz and the Family Jam Band)
Tilt: Whimsical and child friendly bilingual music
Primary Channel: Music albums (they're nominated for a 2022 Grammy)
Other Channels: Spotify (31K monthly), Lishy Lou and Lucky Too (Indiana regional PBS stations), Paletero Man children's book, YouTube (1.43K), Instagram (1.8K)
Time to First Dollar: Six months
Rev Streams: Music albums, streaming, books, advertisements, product placements, live shows
Our Favorite Actionable Advice:
Speak by your actions: Lucky's bilingual musical success helps him tell a story that differs from many Latino stereotypes.
Recognize the power of connection: The Lucky Band and its related content have been successful because they realized how one person could connect them to another, then that person led them to someone else.
Create multiple revenue streams: As monetizing music became more difficult, this duo expanded into children's TV shows, books, and sponsored content and advertising.
The Story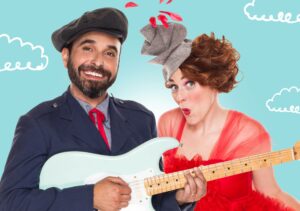 With 13 albums, a regional PBS TV show, a hit children's book, and a collection of Grammy nominations and awards, married couple Lucky Diaz and Alisha Gaddis have created music history with The Lucky Band.
People Magazine has named them "the No. 1 in coolest kids music," and Billboard has listed them as a children's music artist you should know.
On April 3, the duo could take home top honors for best children's music album at the Grammy Awards. Next year, they plan to release a second children's book. With whimsical indie music and childlike imaginations, Lucky and Alisha create content both children and parents adore. Some of their most popular hits include Blue Bear, Thingamajig, and Say What? 
While geared towards children, their bilingual (Spanish and English) music is all about exploration and joy for people of all ages. As Lucky explains: "I just started singing songs to my daughter at bath time, and Alisha said, 'Hey, you should record those.'
@Lucky_Diaz started singing to his daughter at bath time when his wife said he should record those songs. Now their #LuckyBand is up for a 2022 #Grammy for best children's album. #ContentEntrepreneur
Click To Tweet
"So, we just did things, and then all of a sudden, all these years later, we find ourselves in this beautiful place."
Breaking cultural barriers
Though providing representation was never the original goal, it has certainly been an integral piece in their journey. Lucky says as a child, he was made to feel ashamed about being a Latino and Mexican. "Now I feel that I can provide an opportunity for a child to be proud about their heritage like it's something that's cool," he says. 
Though providing representation was never the original goal of @Lucky_Diaz, it's been an integral piece in the bilingual journey of the singer, writer, and performer. #ContentBusiness #CreatorEconomy
Click To Tweet
Lucky speaks from experience: "There's something that I know really clearly, and that's what it's like to be a Mexican American. I know what it's like to be on the positive end of that and the negative side."
He continues, "I remember when we won our first Latin Grammy. We were at the Grammy show, and I just wished that the people that I grew up with could see that we weren't all gardeners or plumbers or what people think of Latinos in America. There's nothing wrong with being a gardener. There's a lot of skill and pride in that work. I just think that the expectation of making something on a global level like this isn't often associated with being Chicano or Mexican American."
More than music revenue
Making money with their music has gotten increasingly complicated over the years for The Lucky Band – and not just because of the pandemic. "Music doesn't really monetize anymore. It used to monetize, and it doesn't anymore. As an artist, I have to find ways to monetize it to sustain myself and create more work, right? That's the trick. That's what everything's all about," Lucky explains.
Music doesn't really monetize anymore. That's why creator @Lucky_Diaz has diversified how he monetizes his creations. #CreatorEconomy
Click To Tweet
They have had to serious hustle to make this happen. "We've had product placements. We've done a Coke ad. We do commercials. We have radio play. I'm also a children's book author. We just diversify," he explains. "We had always made a lion's share of our money touring. Now with a pandemic, it has changed that. You can't put it all in one basket."
"One of my dear friends is a very successful drummer who plays for very successful people, but he never leaves any money on the table. So he'll be playing at a Mexican restaurant on a Thursday, and Friday night, he'll be playing at the Staples Center with Stevie Nicks or somebody huge. He's always been an inspiration to me. He calls (it) making his daily bread. He says, 'Someone's gonna pay me to play, I'll play.'"
Keep an open mind
Lucky has learned some lessons in his creating years. "The advice that I would offer is to say yes and to keep your options open. I was a music business major in college, and music was always my love. But being practical, I had to think about the things that were important to me – like a nice place to sleep because I didn't particularly want the starving artist's lifestyle," he says with a laugh.
"When I moved to LA, and I was offered a job, I said yes right away. That job led to meeting some other people, which led to another thing. It's all in the music business, and that's where I want to be right. And I've been lucky and fortunate enough to be able to craft a life out of it," Lucky says.
"If you had asked my 20-year-old self, 'Hey, what do you want to do?' I would have said, 'Oh, man, I want to be a successful musician.' Wow, I accomplished that. It's not how I thought I was gonna do it. But it really inspires me and reminds me to keep my options option. It's more than I could ever have imagined," he says.
Kimmy Gustafson is a freelance writer with a passion for sharing stories of bravery. Her love for world traveling began when her family moved to Spain when she was 6 and since then, she has lived overseas extensively, visited six continents, and traveled to over 26 countries. She is fluent in Spanish and conversational in French. Currently, she is based on Maui and, when not writing or parenting, she can be found kiteboarding, hiking, or cooking.