Through my content business, Craftsman Creative, I've collaborated with "bigger" creators and companies over the last year.
I put "bigger" in quotation marks because no person is actually bigger or better than anyone else. Instead, I'm referencing the size of their audience, reach, or revenue.
Collaborations can fuel the growth of your content business. Too many creators "fail" at this strategy because they think they can't create a collaboration or receive too many no's. If you follow this three-step system, I expect you'll succeed – getting people to say yes and supercharging your endeavor.
.@DarenTSmith explains how to get a yes to content collaborations that fuel your business growth.
Click To Tweet
1. Do something that gets you noticed
My creator journey started with a book project. I piggy-backed on the August 2021 #Tweet100 challenge by Jay Clouse. As I wrote the book in public, I used the hashtag to get more exposure.
Two things happened: 1. I got the attention of other creators (my target audience) doing the same challenge. 2. I had a mechanism to keep me accountable, so I showed up every day to do the work.
Think of this as collaborating without needing the other creator's permission.
How you can do it: Hop onto hashtag challenges that relate to your target audience. It's a way to join a relevant community and get more exposure for your content products.
Show up every day. Interact with others through comments, direct messages, sharing their work, etc.
Take it one step further – do something above and beyond what everyone else is doing. In my #Tweet100 journey, I wrote chapters of my book instead of just short tweets. In Hayley Barry's #Inktober journey, she designed and then printed her work every day.​
2. Give value first
Too many creators reach out to prospective partners with an ask rather than a give.
Every week, I get at least one note that starts, "Here's what I'd like from you …" And every week, I delete them.
I'm busy, and I'm not even that big a creator. I go out of my way to make time to respond to people who ask questions or offer to help me and my business in some way. But when it's all about the sender, I don't spend any time.
But shifting your mindset from a request (or demand) to an offer is simple and makes all the difference.
Think about what you can offer a collaborator, not what you need from them. Make it a give instead of an ask, says @DarenTSmith. #10kCreatorPodcast with @JoePulizzi #CreatorEconomy
Click To Tweet
I've worked with creators with audiences of 10K, 50K, and even 150+K. How? I connected with them long before I asked them to come on the podcast.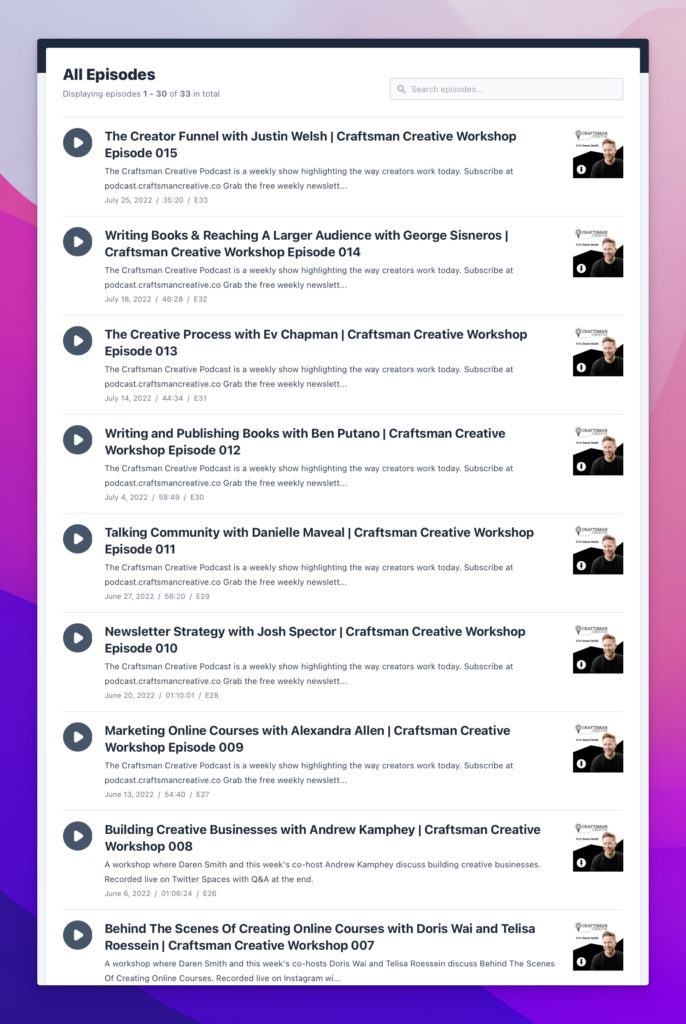 When I made the ask, I also made it relevant to them: "Come on the podcast, and we'll go deep into something you're super passionate about as a creator, and I'll give you three video snippets that you can share with your audience."
How you can do it: Start a relationship independent of any ask. Find common interests, ask them about or compliment a recent post, and be a supporter first.
When you do an ask, make it about them. Show them how your idea will help them reach their goals, and only talk about that in your initial ask.
3. Do all of the work
To make it as easy as possible for your potential collaborator to say yes, use this phrase "… and I'll do everything."
My virtual assistant and I handle all of the technical and creative work. The partner just has to show up. That's it.
How you can do it: Outline all the steps to execute your creative collaboration. List all related expenses. Make sure you can handle all that or figure out how to do it without requiring your collaborator to extend themselves further.
Now, let me go through how I used these three steps to create a collaboration with The Tilt founder Joe Pulizzi – the 10K Creator Podcast that debuted Sept. 28.
The 10k Creator Podcast collaboration
A few months ago, I emailed Joe. He and I chatted at Creator Economy Expo in May. I reference the conversation, mentioned his interest in growing The Tilt audience, and said I had a win-win-win idea to share. I also included my calendar link so he could schedule a call with me.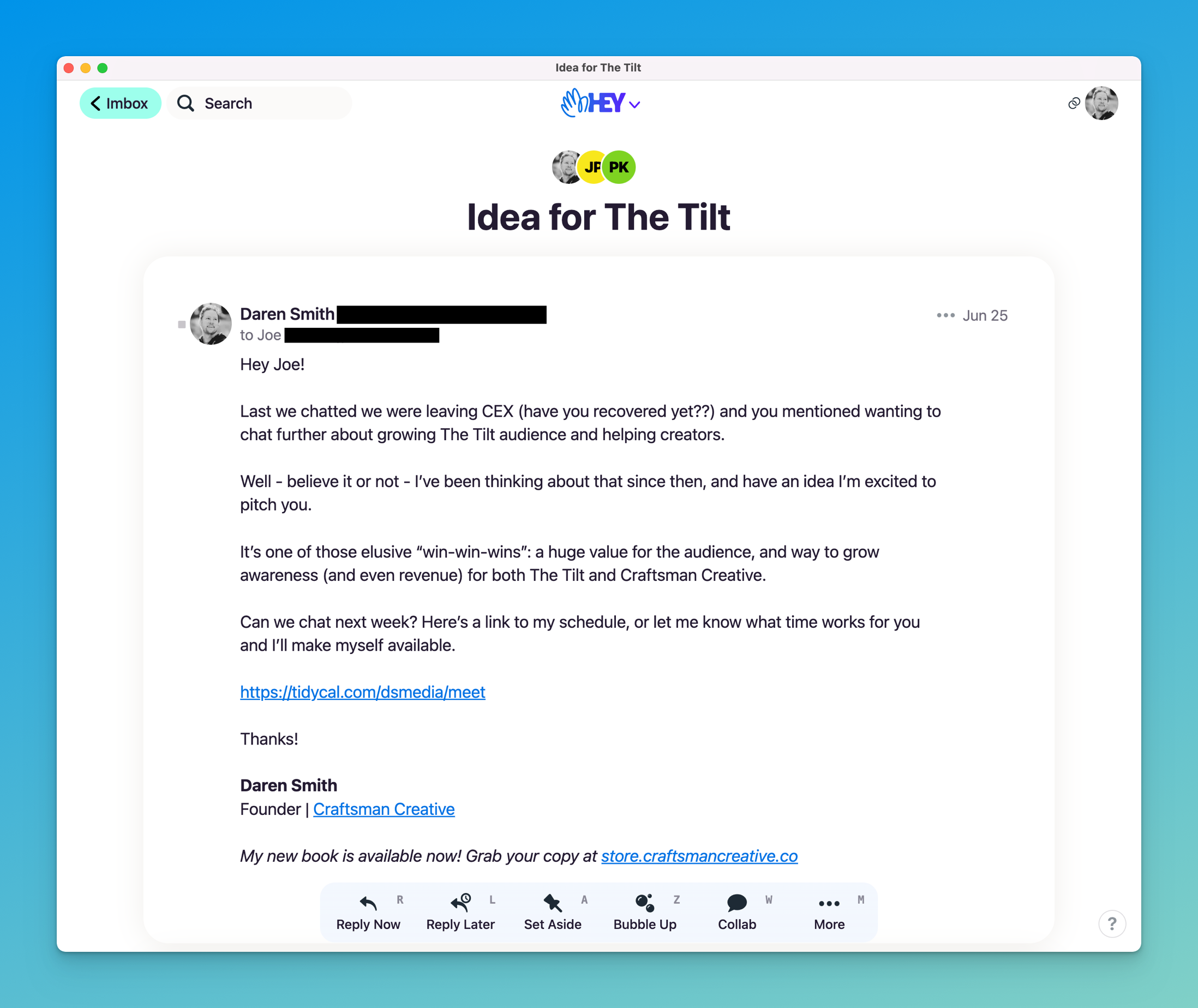 I highlighted the outcomes but left the project itself vague.
A few weeks later, we had a call. I was in South Africa producing a movie but carved out the time to pitch him my idea for a podcast. The idea was a 10-episode season documenting the content creator journey from zero to 10K – 10,000 audience members and $10,000 a month in revenue.
Joe loved the idea but was concerned about his availability (and kindly cautious) about mine. After emailing for a few weeks, Joe concluded the podcast would work as long as it could sell sponsorships before we created it. Making a revenue-generating podcast from the start was a brilliant idea.
Sell sponsorships for your content collaborations before you create the joint project, says #10kCreatorPodcast co-host @JoePulizzi
Click To Tweet
He reached out to potential sponsors who were already working with The Tilt. The email detailed the podcast concept, frequency, distribution strategy, audience, and cost. Joe noted that the podcast would include only three sponsors at $15K each. Each sponsor would be featured in the intro and receive a 30-second mid-roll ad. (In our communication, he also indicated that my share of that revenue would be $10K, and The Tilt would handle distribution/hosting costs, sales commissions, and marketing.)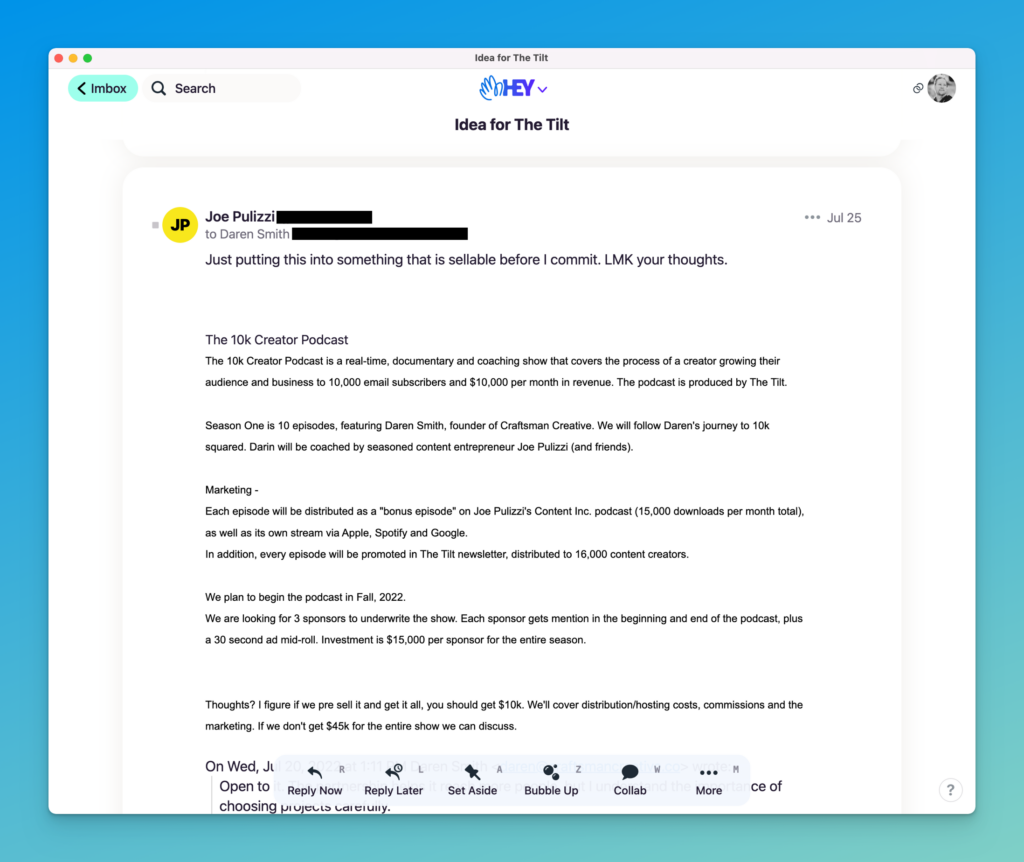 Two weeks later, Joe emailed with the subject line subject: "Start getting ready." They had sold two of the sponsors – Lulu and ConvertKit. Streamyard came in shortly after.
Could I have done this on my own? Probably, but not to the same extent or in the same timeframe. I don't have hundreds of thousands of social followers, an email list of 16K people, or a podcast that already gets 20,000 downloads a month as Joe does.
Six weeks after the deal was done, Joe and I have recorded the first four episodes of The 10k Creator that lives on the Content, Inc. podcast page – and the debut podcast went live Sept. 28. It's delivered to Content Inc. subscribers as bonus episodes.
Interested in learning more? Subscribe or listen today.
Daren Smith is a film producer and creative entrepreneur. He's the author of Craftsman Creative, How Five-Figure Creators Can Build Six-Figure Businesses and the founder of craftsmancreative.co
You can learn more about Daren at his website, check out his weekly newsletter and blog, and connect with him on Twitter.