For an industry that inspires the latest viral and innovative social media content, the idea of content creators using an ebook strategy to gain followers might feel – well – a little bit stodgy.
But here's the thing about ebooks – when done right, they work. They:
Help you tell your story and demonstrate your expertise – growing your community.
Provide one more touchpoint – extending your reach even further.
Offer another way to diversify your content – helping you grow your revenue streams.
For these reasons and more, ebooks continue to be a critical part of the strategy for serious content creators.
"It's a way to get people into my orbit and familiar with my work and hopefully get excited over time about what they might be able to learn in the course," says Dorie Clark, online course creator, communication coach, and bestselling author.
Says author Rebecca Cuevas, the online course creator behind Learn and Get Smarter, "A book is the basis of building a community – your community of practice around whatever it is that you're teaching and that everyone can, literally, be on the same page."
Here's how Dorie and Rebecca use ebooks to build their brand – and their tips for other creators to launch their own.
How to build your creator brand with ebooks
No one-size-fits-all game plan exists for ebooks, and Dorie and Rebecca illustrate that with their strategies. Here's how.
Dorie Clark's ebook strategy
Dorie's three primary online courses help professionals get better known for the great work they do, and her ebooks have been a critical lead-generation strategy. They are the primary way she connected with new clients as she built her seven-figure business.
.@DorieClark uses ebooks as a lead-generation strategy for her online courses. #ContentEntrepreneur
Click To Tweet
For the vast majority of her online course sales, publicity and promotion begin with her appearances on podcasts and guest articles for high-profile publications. In those podcasts and articles, she shares opt-in links to one of her four ebooks, each based on her four full-length books, such as Entrepreneurial You: Monetize Your Expertise, Create Multiple Income Streams, and Thrive.
Through that link, listeners or readers can go directly to her website, share their email addresses, and download the ebook. Those email addresses get added to Dorie's list that she uses to promote her courses.
"I'm a fan of giving people different options for how they take in information and how they use it to reflect on their own lives," she says. "Ebooks are terrific because they are heftier than just reading an article in a publication, and it gives people a chance to engage with you in a more substantive fashion."
Rebecca Cuevas' ebook strategy
In addition to the flip books she creates for her online courses, Rebecca has two ebooks – Hello World – Meet Mother Rebecca: The Autobiography of a Fictional Victorian Know-It-All and Course Design Formula: How to Teach Anything to Anyone Online.
Meet Mother Rebecca is about Rebecca's fictional alter ego who shares her values and mission and shows up in an online space without being divisive, she says. "It was a way to tell my story by keeping the truth but removing all the facts," Rebecca explains.
Course Design Formula is a how-to book that provides practical tips on how to design online courses. Rebecca, like Dorie, teaches through the Thinkific online course platform.
Her ebooks may sound like dramatically different topics, but Rebecca says both have helped her build her business and bring the right kind of clients to her.
If a potential client hears about or reads Meet Mother Rebecca and doesn't relate to it, "that's a good indicator to me that they probably aren't really attracted to my brand, so I'm probably not going to be the best service to them," she says. "… What Mother Rebecca is representing is artisanal craftsmanship in the digital age. So, they're attracted to that because they want to create something unique and something that's very beautiful."
Rebecca sells her ebooks on Amazon, so she's not able to gather emails from those sales, but she includes links to her website in a "free resource" section in the books where readers can sign up for her email list. She also uses her books as one more entry point into all her offerings, which include courses and coaching. "What it's enabling me to do is scale my impact," she says.
#RebeccaCuevas sells her ebooks on @Amazon. She uses them as an entry point to her content-focused product offerings. #CreatorEconomy
Click To Tweet
4 tips to add ebooks to your brand strategy
The idea of writing a book can strike fear in the hearts of just about anybody. But creating ebooks doesn't have to be difficult. "The thing about an ebook is, they can be done the easy way or the hard way," Dorie says.
Here are four tips for launching your ebook strategy.
Don't recreate the wheel
You probably don't need to come up with a new topic to cover. You likely already have content from a series of Instagram posts, an online course, or your TikTok tips and tricks. That was the case for Dorie. Her existing books included plenty of material, primarily from the ask-yourself questions at the end of chapters or sections that were used to create the ebooks.
"They are fleshed out to create a short narrative arc and walk people through the process of thinking through these questions," Dorie says. "Hopefully, that begins to whet their appetite for the book itself but also introduces them to the themes that I talk about in my courses."
Dorie counsels creators to think about ways they can maximize what they already have by repackaging it in different ways. "There are ways to make the process easier on ourselves," she says.
Get professional help
If you don't have graphic design training, consider using help to lay out the ebook. "Design is important, but that doesn't mean it needs to be hard and expensive," Dorie says.
Dorie's book publisher was willing to create a framework for a couple of her ebooks. Now, she's hired a private designer to emulate her earlier ones. Providing an example of how you want the ebook to look can be helpful for designers, Dorie says. "It makes the process a lot easier for the designer. And unless you have a million graphs or a million images, it's not like the design of an ebook is that complicated. It's not going to be that expensive."
While Dorie's ebooks run between 10 and 40 pages, Rebecca's ebooks are longer; her Course Design Formula ebook is more than 400 pages. She found it helpful to work with a developmental editor and highly recommends others do so. Developmental editors help authors with the outline and structure of the book and can even provide some guidance on the writing. "A developmental editor structures your book so that people will benefit," she says.
Consider your landing pages
As mentioned, Dorie shares a link to her ebook in her guest articles and podcast appearances. She intentionally uses an easy-to-spell URL that goes directly to the ebook landing pages, such as DorieClark.com/reinvent. It makes it easier to rattle off on a podcast and for people to remember. She's also been intentional about the design of those landing pages so that new fans don't get sidetracked.
"The landing pages are very clean in their design, meaning there's one thing you can do, literally one thing, and that is sign up to get the ebook," she says. "We're not giving people a lot of choices or opportunity to get confused there."
Be patient
It's highly unlikely that publishing an ebook is going to make you $1M in three weeks, Rebecca says. And they might not go as viral as your latest TikTok. But ebooks provide one more way to nurture your growing fanbase and turn readers and followers into buyers. It's another star in the constellation of your tilt, Rebecca says. But, be patient, she says, "it's a process that takes time."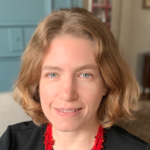 Sarah Lindenfeld Hall is a longtime journalist, freelance writer, and founding editor of two popular parenting websites in North Carolina. She frequently writes about parenting, aging, education, business management, and interesting people doing remarkable things.