2021 Content Entrepreneur Benchmark Research
What Does It Take to Succeed as a Content Entrepreneur in the Creator Economy?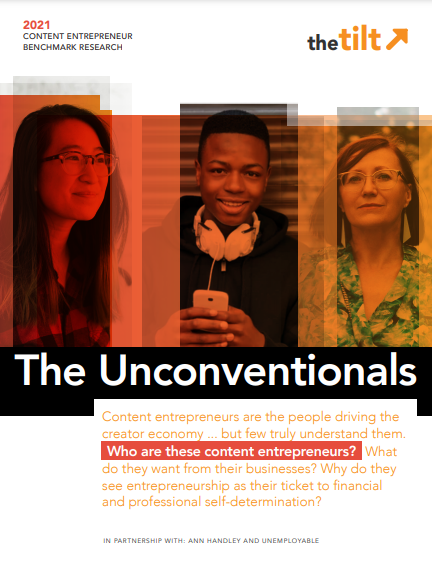 New data paints a detailed picture. Read The Unconventionals – a report based on a survey of more than 1,400 content entrepreneurs. Here's a sneak peek at what you'll find:
Content entrepreneurs aren't who you think they are. Banish the image of under-30 viral YouTube or TikTok stars. The largest and most financially successful cohort in the study was Gen X (40%), now in their 40s and 50s.
They're not just creating content; they're building businesses. More than half of content entrepreneurs (57%) aim to grow their businesses to support at least a few people; just 6% say they're pursuing it as a hobby.
They're pursuing success on their own terms. Fully 86% named financial freedom as a reason they chose that career path.
The Unconventionals digs into the minds, motivations, and aspirations of content entrepreneurs. What does it take to build a successful content business? What motivates the leap from traditional employment to independent creator? And how will this group of unconventional thinkers influence the future of work? Why is this group at the heart of the creator economy?
About The Unconventionals
The Unconventionals is published by The Tilt, in partnership with Ann Handley and Unemployable. The survey was fielded from April to May 2021 by an independent research firm, with distribution help from Active Campaign, Libsyn, and Youpreneur.
Have you read the main report and want to dive even deeper into the data? Subscribe to The Tilt to get our 32-page Unconventionals Data Supplement, where we review ALL the findings.